Same Day Agra Tour
Explore Wonderful India Places With GeTS Holidays
Duration: 1 Day



Destinations: Delhi - Agra
Delhi - Agra (203 kms. 4 hrs. 30 min. approx.)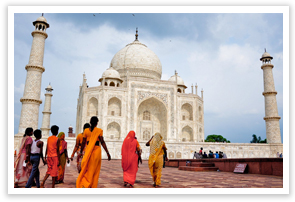 In this Same Day Agra Tour, you will get the chance to know the city and its surroundings from differentRed Fort Agra angles. You will get to witness the beauty of Taj Mahal, Agra Fort and many other tombs and monuments of Mughal era.
Taj Mahal is one of the loveliest monuments and also a wonder of the world. If entails the eternal love story of Shah Jahan and Mumtaz. Moreover it took 22 years and 20,000 ardent labours who inlaid the white marble along with precious stones to complete this architectural grandeur.
The Agra Fort offers an octangular view of the Taj Mahal. This fort lies across the River Yamuna.
0630 to 1245 hours
On arrival to Delhi you will be driven to Agra through the Indian countryside. As you reach Agra proceed towards the incomparable Taj Mahal. Enjoy its view from different angles. Taj Mahal is considered to be the architectural grandeur as well as modern day wonder of the world. It was built in 1652 by Emperor Shah Jahan.
1300 to 1400 hours
Savour your sumptuous buffet lunch in your tour to Agra.
1400 to 1500 hours
Soon after your lunch go off to visit the Agra Fort, which is built of red sandstone. The fort has magnificent palaces, halls for public and private audiences and the beautiful gardens. It is in the fort where Shah Jahan was kept under house arrest by his third son Aurangzeb.
1500 to 1530 hours tajmahal tour
Its time to visit the marble factory and enjoy the beautiful inlay of precious stoned into the marbles.
1600 to 1630 hours
After that its time to drive back to Delhi. En-route you can pay a visit to 'Sikandra'. It is the tomb of the Mughal Emperor Akbar. It's the garden tomb. Reaching Delhi around 2130.