Same Day Rishikesh Tour
Explore Wonderful India Places With GeTS Holidays
Same Day Rishikesh Tour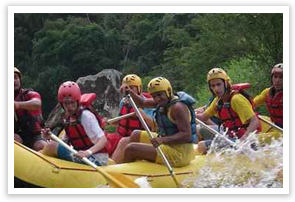 Haridwar tour packageRishikesh, also known as the 'place of sages' is Haridwar, at the confluence of the Chandrabhaga and Ganga. It is believed that God by the name of 'Hrishikesh' had appeared as an answer to the hard penances by Rabhiya Rishi and henceforth the place derived its name. It is the starting point for the Char dham pilgrims but also for the people who are interested in meditation, yoga and other aspects of Hinduism.
For the adventure seekers, rishikesh is the suggested place for starting their trekking expeditions to the Himalayan peaks and for rafting. Also, International Yoga Week which attracts participation form across the world, is held here, every year, in February on the banks of the Ganga.
Rishikesh is one of the most popular pilgrim centres and gateway to the Himalayan Shrines of Badrinath, Kedarnath, Gangotri and Yamunotri. The Yoga Centres of Rishikesh have enhanced the significance of the place. From this point on, the great Ganges leaves behind her mountain home and enters the vast plains of Northern India.
PLACES TO SEE
Bharat Mandir : Rishikesh tour packageThe Bharat Mandir is the oldest temple in Rishikesh, near the Triveni Ghat. This temple is dedicated to Bharat, the younger brother of Lord Ram.
Kailash Niketan Temple : This is the main temple at Laxman Jhool and one can see the sculptures of all Gods and Goddesses in this thirteen storey mansion.
Satya Narayan Temple : The idol of Lord Satyanarayan has been enshrined inside the temple located enroute to Rishikesh, 10 kms. away from Hardwar. The visitors use this place as a station to halt for a casual worship.
Shatrughan Temple : This is an ancient temple dedicated to Shatrughan, Lord Ram's brother and is situated 5 kms. away from Rishikesh.
Neelkanth Mahadev : The Neelkanth Temple is situated on top of a hill across the Ganga. According to mythodology, after the Sagar Manthan Lord Shiva drank all the effluent venom here, which turned his throat blue, hence the name Neelkanth.